2 x 20W Class D Bluetooth Audio Amplifier Board - TSA9840
Brand:
Tinysine
Product Code:
TSA9840
Reward Points:
0
Availability:
1231
Price: $22.95
5 or more $21.00
20 or more $19.00

TSA9840 2x20W audio amplifier board with AudioB plus Bluetooth module. It has perfect class-D architecture(Based on MAX98400A) and each channel has 20W power output. Both of channels are capable of outputting nominal power simultaneously and continuously. This board can be powered by any DC10V-24V power supply. It can be used to drive two 8Ω passive speakers. TSA9840 can also be connected with our TSA1000,TSA1010 or TSA1020 external audio volume control board. People can adjust the audio volume by rotating the real knob.
It's perfect for your Hi-Fi application. You may wish to pair with a mobile phone or a computer (etc). Power the amplifier board. Use your phone or PC (etc) to search for a new Bluetooth device. The module will appear as "TSA9840". You don't need a PIN, pair it and then you can play music.
TSA9840 can auto detect the Aux in/Line in Audio input. Bluetooth Audio source has higher priority. When Bluetooth audio is paused or bluetooth is disconnected. The amplifier will output the Aux in/Line in audio.
There have an extra LINE OUT audio output jack. It can also be connected with a subwoofer amplifier board.
BVC Port: BVC port can be connected with our Audio volume controller to control the Bluetooth audio volume.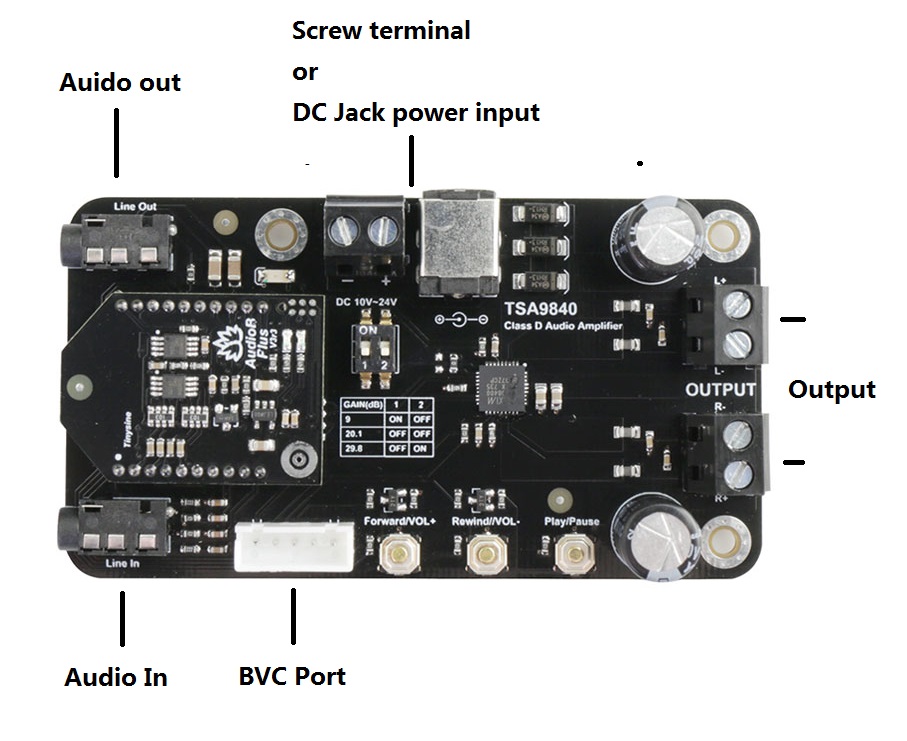 Specification:
Following table lists all typical data of the Amp board. For full specification, please refer to the data sheet of MAX98400A chip.TA = 25℃, fin = 1 kHz sine wave, RL = ∞, VVS = 18V. (Unless otherwise stated)
Parameter

Condition

Min

Typ

Max

Supply Voltage (VDC)

Inferred from PSRR test

10

-
24
Current Limit
3.5A
5A
-
Bandwidth @ ±3dB
@8Ω
20Hz
-
22KHz
Efficiency

PO = 2X20W, MAX98400A,
PVDD = 12V ,RL = 8Ω

-
90%
-

Minimum Load Impedance

8Ω

Switching Frequency

265KHZ
330KHZ
295KHZ
Gain
9dB
20.1dB
29.8dB

Input Sensitivity(RMS)

-

-
620mV
-

Input Impedance

-
-
22KΩ
-

Output Power

Stereo,RL = 8Ω,THD+N 10%

-
22W
-

Mono, RL = 4Ω,THD+N 10%

-
44W
-

THD+N

POUT=0.1W to POUT/2, fIN= 20Hz to 20kHz, RL= 8Ω

-

0.3%

-

POUT/2, fIN=1kHz, RL= 8Ω

-

0.03%

-
Features:
Size: 9.1cm x 5.0cm
Bluetooth 4.0
Bluetooth audio volume control port(BVC)
Working voltage: DC10V-24V
Thermal and output current protection
Applications:
Personal computer
Background music system
Musical instrument amplifiers
Home DIY
Car audio
Documents:
Write a review
Your Name:
Your Review:
Note: HTML is not translated!
Rating:
Bad
Good
Enter the code in the box below: