Cubietruck - Dual Core Single-board Computer Kit (Cubieboard3)
Product Code:
G528445F2B34A8
Reward Points:
0
Availability:
Out Of Stock
Introduction :
While cubieboard1/2 very suitable for student, software/hardware hackers, cubietruck(cubieboard3) is suitable for us to make real product
Cubietruck is the 3rd board of Cubieteam, so we also name it Cubieboard3. It's a new PCB model adopted with Allwinner A20 main chip,just like Cubieboard2. But it is enhanced with some features, such as 2GB memory, VGA display interface on-board, 1000M nic, WIFI+BT on-board, support Li-battery and RTC,SPDIF audio interface.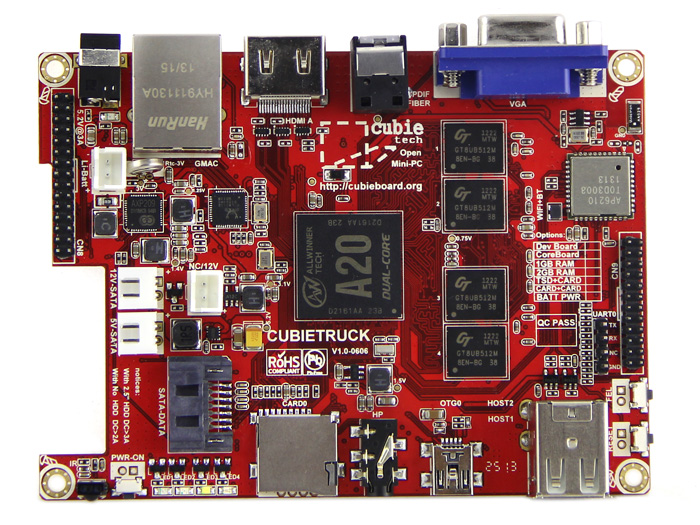 Hardware Specs
Ordered List ItemAllWinnerTech SOC A20 ARM® Cortex™-A7 Dual-Core ARM® Mali400 MP2 Complies with OpenGL ES 2.0/1.1

Ordered List Item1GB/2GB DDR3@480MHz

Ordered List ItemHDMI&VGA 1080P display output on-board

10M/100M/1G Ethernet

Wifi+BT wireless connection with antenna on-board

SATA 2.0 interface support 2.5' HDD (for 3.5' HDD, only need another 12V power input)

Storage solution NAND+MicroSD or TSD+ MicroSD or 2*MicroSD

2 x USB HOST 1 x OTG 1 x SPDIF 1 x IR 4 x LEDs 1 Headphone 3 x Keys

Power DC5V @ 2.5A with HDD support Li-battery & RTC

54 extended pins including I2S, I2C, SPI, CVBS, LRADC x2,UART, PS2, PWMx2, TS/CSI, IRDA, LINEIN&FMIN&MICIN, TVINx4 with 2.0 pitch connectors

PCB size 11cm *8cm*1.4mm very suite for installing a 2.5' HDD
Features
Allwinner Tech A20 SOC
SATA supported
54 extended pins
Built-in HDMI/ VGA display interface
Built-in WIFI+BT module
2GB DDR3 RAM
Built-in IR receiver
SPDIF audio interface
Includes
Cubietruck main board x1
SATA 2.0 cable x1
Mini USB to OTG x1
Mini USB cable x1
USB to 1.7 mm DC jack cable x1
Acrylic shell x1
Ultrathin Heat Sink x1
Expansion Ports
Write a review
Your Name:
Your Review:
Note: HTML is not translated!
Rating:
Bad
Good
Enter the code in the box below: