LED Stick - 8 x WS2812 5050 RGB LED
Product Code:
G56E3A58DD9702
Reward Points:
0
Availability:
34201
Price: $4.95
5 or more $4.20
20 or more $3.80

This is a FPC LED stick, a small chainable board with eight 5050 WS2812 RGB LEDs. The WS2812s are each addressable as the driver chip is located inside the LED. Each LED Stick has ~18mA constant current drive so the color will be very consistent even if the voltage varies, and requires 5V.
Every stick is equipped with a single data line with a very timing-specific protocol requiring a real-time microconroller with a 8MHz or faster processor such as an AVR, Arduino, PIC, mbed, etc. There are solder pads on the back for connecting wires or breadboard pins and two mounting holes for securing this board to many different surfaces.
This LED stick are made of flexible PCB material,and it is very soft and flexible so they can be cut to length and can be gently bent and curved around surfaces. Tear up the sticker on the back of the board,then you can stick in the place where you want to stick.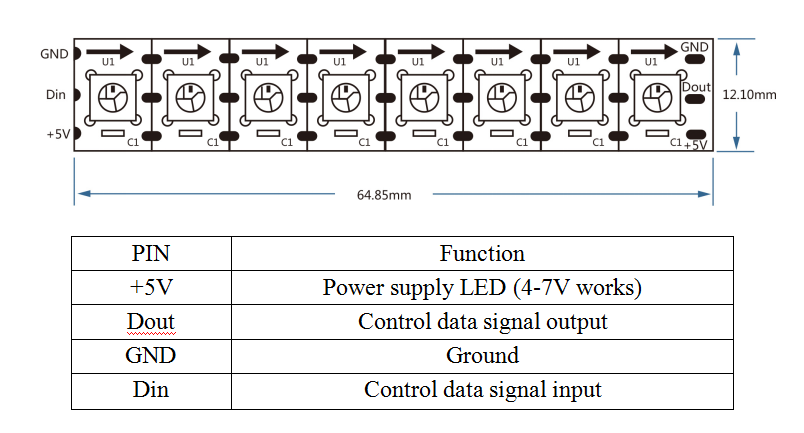 Documents:
Write a review
Your Name:
Your Review:
Note: HTML is not translated!
Rating:
Bad
Good
Enter the code in the box below: