XBee PRO Kit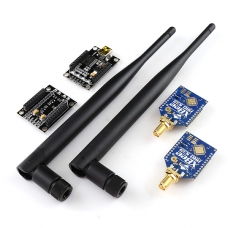 Brand:
Digi
Product Code:
G51C5B04E22552
Reward Points:
71
Availability:
Out Of Stock
Price: $30.00

Description: XBee-PRO 900HP embedded modules provide best-in-class range wireless connectivity to devices. They take advantage of the DigiMesh networking protocol, featuring dense network operation and support for sleeping routers, and are also available in a proprietary point-to-multipoint configuration. Supporting RF line-of-sight ranges up to 28 miles (with high-gain antennas), and data rates of up to 200 Kbps, these modules are ideal for extended-range applications requiring increased data throughput.

The XBee-PRO 900HP requires no programming and can be configured easily using Digi's free X-CTU software or via a simplified AT command set. XBee modules are pre-certified for use in multiple countries, further reducing development costs and time to market.

XBee modules are easy to use, share a common hardware footprint and are
Digi Part #: XBP9B-DMST-002
Features:
Superior outdoor LOS range of up to 28 miles
Simplified AT command set or advanced XBee API accelerates time to market

Over-the-air firmware updates via other XBee-PRO 900HP modules or iDigi Device Cloud

Software-selectable channel mask for interference immunity
Advanced sleep modes include sleeping routers, pin sleep, cyclic sleep
User manual
X-CTU Software
Kit include:
2 * xbee pro 900HP RPSMA xbee module
1 * xbee adapter with USB cable
1 * xbee explorer regulated
2 * 900M antenna
Write a review
Your Name:
Your Review:
Note: HTML is not translated!
Rating:
Bad
Good
Enter the code in the box below: