Triple-Axis Digital-Output Gyro ITG-3200/3205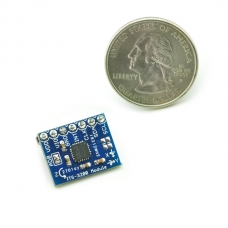 Product Code:
G4FE01AA435680
Reward Points:
0
Availability:
600
Description: This is a breakout board for InvenSense's ITG-3205, a groundbreaking triple-axis, digital output gyroscope.The ITG-3205 is the world's first single-chip, digital-output, 3-axis MEMS gyro IC optimized for gaming, 3D mice,and 3D remote control applications. The part features enhanced bias and sensitivity temperature stability, reducing the need for user calibration. Low frequency noise is lower than previous generation devices, simplifying application development and making for more-responsive remote controls.The ITG-3205 features three 16-bit analog-to-digital converters (ADCs) for digitizing the gyro outputs, a user-selectable internal low-pass filter bandwidth, and a Fast-Mode I2C (400kHz) interface. Additional features include an embedded temperature sensor and a 2% accurate internal oscillator. This breakthrough in gyroscope technology provides a dramatic 67% package size reduction, delivers a 50% power reduction, and has inherent cost advantages compared to competing multi-chip gyro solutions. By leveraging its patented and volume-proven Nasiri-Fabrication platform, which integrates MEMS wafers with companion CMOS electronics through wafer-level bonding, InvenSense has driven the ITG-3205 package size down to a revolutionary footprint of 4x4x0.9mm (QFN), while providing the highest performance, lowest noise, and the lowest cost semiconductor packaging required for handheld consumer electronic devices. The part features a robust 10,000g
shock tolerance, as required by portable consumer equipment. For power supply flexibility, the ITG-3205 has a separate VLOGIC reference pin, in addition to its analog supply pin,VDD, which sets the logic levels of its I2C interface. The VLOGIC voltage may be anywhere from 1.71V min to VDD max.
Features:
Digital-output X-, Y-, and Z-Axis angular rate sensors (gyros) on one integrated circuit
Digitally-programmable low-pass filter
Low 6.5mA operating current consumption for long battery life
Wide VDD supply voltage range of 2.1V to 3.6V
Standby current: 5μA
Digital-output temperature sensor
Fast Mode I2C (400kHz) serial interface
Optional external clock inputs of 32.768kHz or 19.2MHz to synchronize with system clock
Pins broken out to a breadboard friendly 7-pin 0.1" pitch header
Dimensions: 0.70 x 0.55" (17.78 x 13.97mm)
This breakout board is shipped as shown in the images. Note that there are two unpopulated resistors on the I2C lines, these can be added later by the customer if desired.
Hooking It Up:
Here will show you how to read data from the ITG-3205 on an Arduino. Before we start examining the sketch we need to hook the sensor up to the Arduino. Here's a table that shows you how to connect the pins on the ITG-3205 to the pins on the Arduino. You can use stripped wire, or our jumper wire to connect the two devices.
| Arduino Pin | ITG-3200 Pin |
| --- | --- |
| A5 | SCL |
| A4 | SDA |
| GND | GND |
| 3.3v | VIO |
| 3.3v | VDD |
Here's a diagram to go along with the table in case you like pictures.
Documents:
Write a review
Your Name:
Your Review:
Note: HTML is not translated!
Rating:
Bad
Good
Enter the code in the box below: