Triple Axis Magnetometer HMC5883L
Product Code:
G4FE01DB903D0B
Reward Points:
0
Availability:
869
Price: $9.50
5 or more $8.00
20 or more $7.00

Description: This is a breakout board for Honeywell's HMC5883L, a 3-axis digital compass. Communication with the HMC5883L is simple and all done through an I2C interface. There is no on-board regulator, so a regulated voltage of 2.16-3.6VDC should be supplied.
The breakout board includes the HMC5883L sensor and all filtering capacitors as shown. The power and 2-wire interface pins are all broken out to a 0.1" pitch header.
Features:
Simple I2C interface
2.16-3.6VDC supply range
Low current draw
5 milli-gauss resolution
Dimensions: 0.7x0.7" (17.78x17.78mm)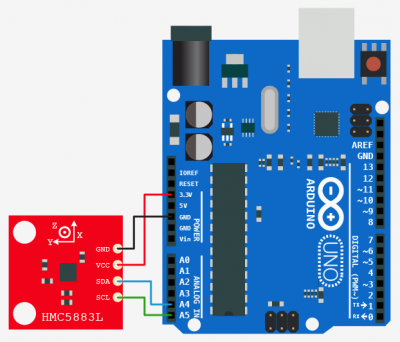 Documents:
To make this code work, before you load the code, or even open the Arduino program, we need to place the "HMC5883L" folder into your Arduino Library. If you don't know where that is by default, Look to the below
Default Library Folder Location
On your Mac:: In (home directory)/Documents/Arduino/libraries
On your PC:: My Documents -> Arduino -> libraries
On your Linux box:: (home directory)/sketchbook/libraries
Write a review
Your Name:
Your Review:
Note: HTML is not translated!
Rating:
Bad
Good
Enter the code in the box below: