3D Printer Machine
Product Code:
G519C39FEF0538
Reward Points:
0
Availability:
28
Price: $599.00

INVENT IT. CREATE IT. PRODUCE IT. READY, SET, PRINT. Worldwide FREE shipping!
3D Printer is coming!
3D Printer is really a popular thing in nowdays, many people like geeks hope to get one. But most of them is too expensive. Now, we have a good performance, affordable 3D Printer!
Come3D is designed for small and medium enterprises, schools, families, individuals economy desktop 3D printer. Obviously, if you dont want to make very complicate things, just to achieve the basic print functions, this 3D printer is enough to meet this requirement. And the qulaity is good.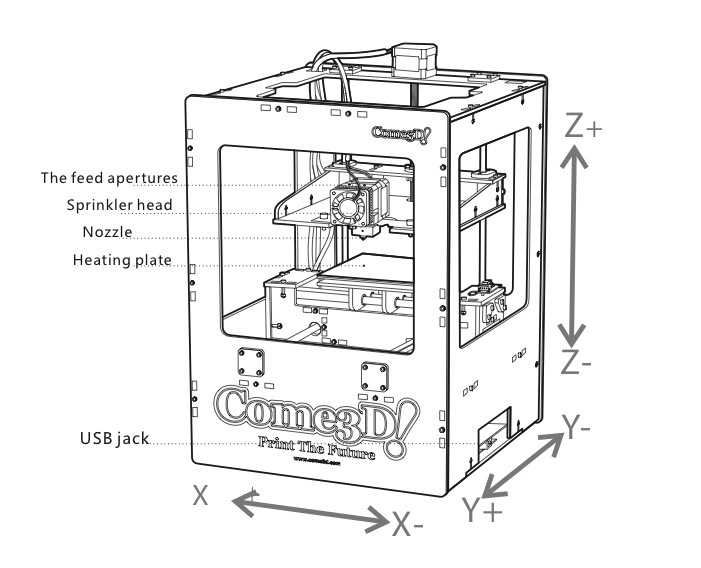 Technical parameters
Positioning accuracy: 0.1mm Print precision: 0.1-0.3mm Layer thickness: 0.3mm Speed: 15cm3 / hour
Build Size: 120 × 120 × 120mm
Material Type: ABS filaments
Material colors: white, green, red, blue, yellow, black, transparent
Material Specifications: 1.7-1.8mm in diameter
Nozzle Quantity: 1
Nozzle aperture: 0.4mm
Recommended nozzle temperature: 230 °C (the maximum can be set to 260 °C)
Heating plate temperature: 100-120 °C
(proper winter warming and summer appropriate cooling)
Best ambient temperature: ≥ 25 °C
Power requirements: 220V300W,
ATX The file print format: STL, GCODE Compatibility: Windows, Linux, Mac OX CE, CSA specifications: CE, CSA
Device weight: 8kg
Equipment size: 300 × 300 × 400mm Package size: 400 × 400 × 500mm
Package include:
3D printer ×1
USB data cable ×1
1.8m power cord ×1
3mm hex wrench ×1
5mm hex wrench ×1
3 * 16 hex bolt ×5
3 * 10 hex bolt ×2
3mm nut ×8
Ceramic insulation cotton ×1 0.4mm nozzle clean-up drill ×1 Installation CD ×1
User's Guide ×1
Aftermarket warranty card ×1
Write a review
Your Name:
Your Review:
Note: HTML is not translated!
Rating:
Bad
Good
Enter the code in the box below: