FSR400 Force Sensitive Resistor - Short Tail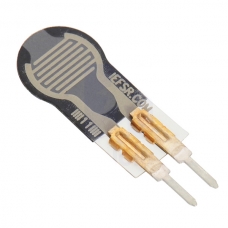 Product Code:
G5448C3B5CDF69
Reward Points:
1
Availability:
100
Price: $7.95
5 or more $7.00
20 or more $6.50

Description:
This force-sensing resistor(FSR) is a passive component. When there is an increase in the force applied to the 0.25" diameter (0.5cm) active area, the resistance will decrease, The harder the force, the lower the resistance. it's useful for your project to create a sensor to detect force or pressure.
With the force sensitivity range from a few grams to a few kilograms, this FSR is optimized for use in human touch control applications.
Two pins extend from the bottom of the sensor with 0.1" pitch making it bread board friendly.

These sensors are simple to set up and great for sensing pressure, but they aren't incredibly accurate. Use them to sense if it's being squeezed, but you may not want to use it as a scale.

Dimensions:
0.3" diameter × 0.01"
Sensing area: 0.25" diameter
Weight: 0.1g
Documents:
Write a review
Your Name:
Your Review:
Note: HTML is not translated!
Rating:
Bad
Good
Enter the code in the box below: