Solder Wire Lead Free - 0.8mm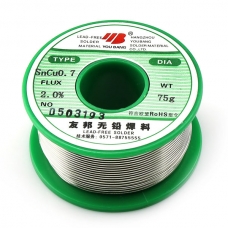 Product Code:
G55D6CC6D31E58
Reward Points:
0
Availability:
9978
Price: $6.50
5 or more $6.20
20 or more $5.75

Description:
As indispensable material during the process of soldering, solder wire is always added with a certain amount of soldering flux to guarantee the quality of soldering. Made out of high-quality resin, this product has many advantages, including fast soldering speed, little splash, bright soldering spot and wild-range uses. Well complied with soldering technological requirements and perfectly adapted to the rapidly developing electronic industry, it's a favorite of personnel engaged in circuit soldering and maintenance.
Dimensions:
Wire diameter:0.8mm
Weight: 75g
Tin content: 99.3%
Scaling powder content: 1.8%
Advantages:
It has small wire diameter, suitable for the soldering and maintenance of compact circuit board.
Bright and reliable soldering spot
Reliable soldering performance
Little spatter, light smoke and smell during soldering process.
Little corrosivity
The residue after soldering is light in color and little in amount.
High insulation resistance
Write a review
Your Name:
Your Review:
Note: HTML is not translated!
Rating:
Bad
Good
Enter the code in the box below: