HC-SR04 - Ultrasonic Sensor
Product Code:
G50EFBF9C7270F
Reward Points:
0
Availability:
1200
Price: $1.50
5 or more $1.30
20 or more $1.20

This ultrasonic sensor is a non-contact distance measurement module which is compatible with the arduino or other system. It's designed for easy modular project usage with industrial performance.
Features
Detecting range: 3cm-4m
Best in 30 degree angle
Electronic brick compatible interface
5VDC power supply
Breadboard friendly
Dual transducer
Arduino library ready
Specification
| | |
| --- | --- |
| Supply voltage | 5V |
| Global Current Consumption | 15 mA |
| Ultrasonic Frequency | 40k Hz |
| Maximal Range | 400 cm |
| Minimal Range | 3 cm |
| Resolution | 1 cm |
| Trigger Pulse Width | 10 μs |
| Outline Dimension | 43x20x15 mm |
Mechanic Dimensions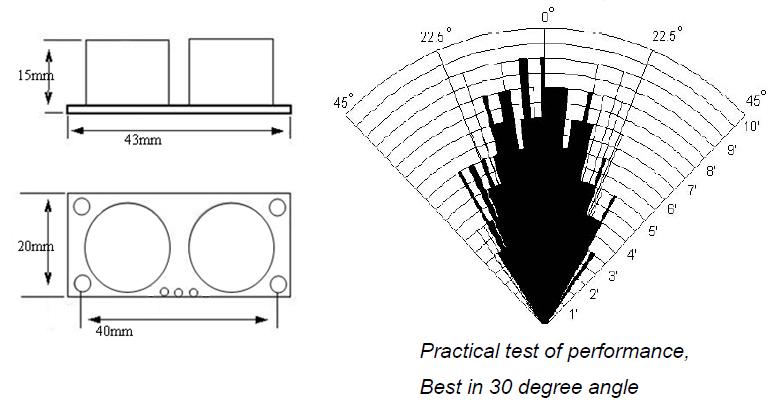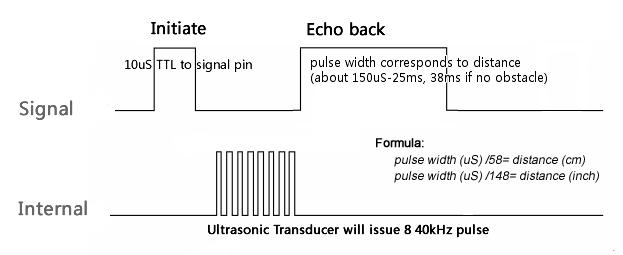 A short ultrasonic pulse is transmitted at the time 0, reflected by an object. The senor receives this signal and converts it to an electric signal. The next pulse can be transmitted when the echo is faded away. This time period is called cycle period. The recommend cycle period should be no less than 50ms. If a 10μs width trigger pulse is sent to the signal pin, the Ultrasonic module will output eight 40kHz ultrasonic signal and detect the echo back. The measured distance is proportional to the echo pulse width and can be calculated by the formula above. If no obstacle is detected, the output pin will give a 38ms high level signal.
Document:
Write a review
Your Name:
Your Review:
Note: HTML is not translated!
Rating:
Bad
Good
Enter the code in the box below: