Tinysine Brings You Intel Galileo Board On 2014 Valentine's Day
Galileo is a microcontroller board based on the Intel® Quark SoC X1000 Application Processor, a 32-bit Intel Pentium-class system on a chip. It's the first board based on Intel® architecture designed to be hardware and software pin-compatible with Arduino shields designed for the Uno R3. Digital pins 0 to 13 (and the adjacent AREF and GND pins), Analog inputs 0 to 5, the power header, ICSP header, and the UART port pins (0 and 1), are all in the same locations as on the Arduino Uno R3. This is also known as the Arduino 1.0 pinout.
Galileo board is also software compatible with the Arduino Software Development Environment (IDE), which makes usability and introduction a snap. In addition to Arduino hardware and software compatibility, the Galileo board has several PC industry standard I/O ports and features to expand native usage and capabilities beyond the Arduino shield ecosystem. A full sized mini-PCI Express slot, 100Mb Ethernet port, Micro-SD slot, RS-232 serial port, USB Host port, USB Client port, and 8MByte NOR flash come standard on the board.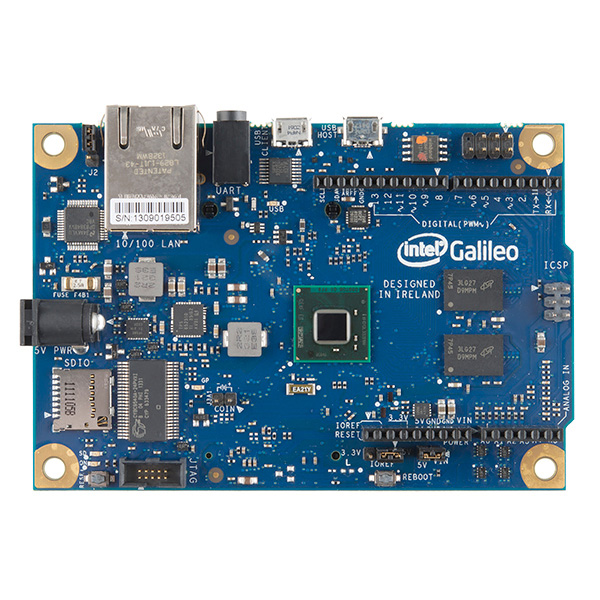 The Intel Galileo development board is a great tool for quickly prototyping simple, interactive designs such as LED light displays that respond to social media, or for tackling more complex projects, from automating home appliances to building life-size robots controlled by a smartphone.

This platform provides the ease of Intel architecture development through support for the Microsoft Windows*, Mac OS* and Linux* host operating systems. It also brings the simplicity of the Arduino software integrated development environment (IDE). It's all about delivering Intel performance and quality to the DIY maker community—to support invention and creativity.
The Galileo is a unique entry into the growing Arduino board catalog. We're sure there are plenty of projects out there that can make use of the unique blend of Arduino and Linux.Galileo board is available in Tinysine webstore now.