Tinysine Lazybone Got CE Certificate
As we know,CE Marking is European Product Safety Regulations. Products and installations that are put into use in the European market must comply to the CE marking and CE certification regulations. Only if products comply to the European Directives can they gain the CE approval and be supplied with a CE certificate.
The CE marking or formerly EC mark, is a mandatory conformity marking for certain products sold within the European Economic Area (EEA) since 1985. The CE marking is found even on products sold outside the EEA, because they are either products manufactured in the EEA and have been exported, or they were manufactured in other nations which have EEA as a prime market. This makes the CE marking recognizable worldwide even to people who are not familiar with the European Economic Area.
Recently, Lazybone had got CE certificate. That's really a good news for us, our customers and distributors, which means it is Europe's commitments towards safe product.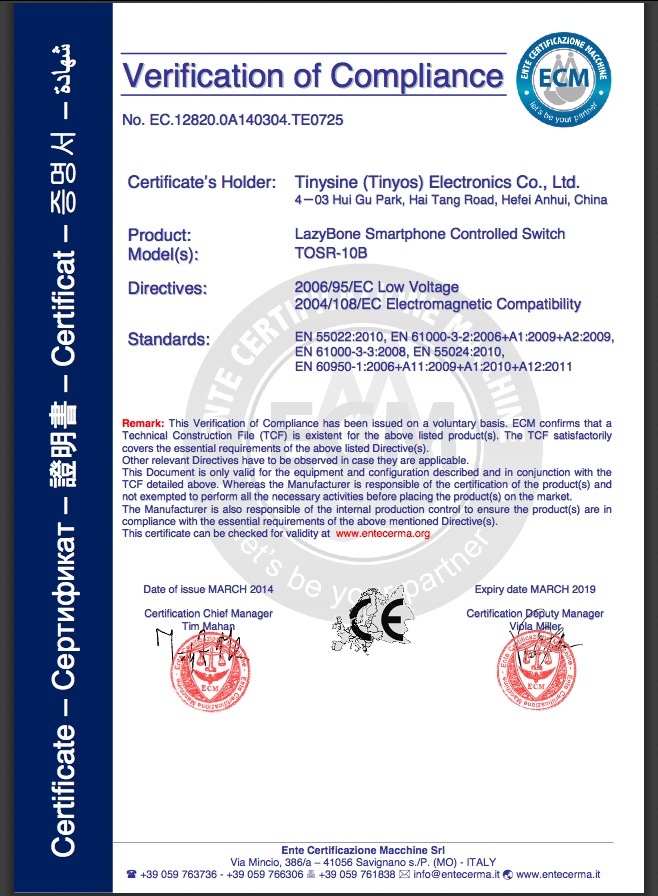 Tinysine engineers spent couple of month to prepare the relative documents and files. Finally we have a good result, we passed the certification. The Certification include 2 directives : LVD and EMC, LVD is Low Voltage directive and EMC is Electromagnetic Compatibility.
We found a interesting video of introducing the CE marking which made by European Commission, to share with you here: