Simple High-Power Motor Controller 24v12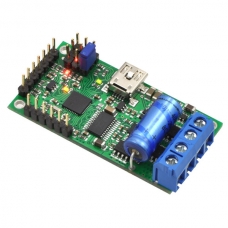 Brand:
Pololu
Product Code:
G54C1F2F370BB6
Reward Points:
0
Availability:
Out Of Stock
Price: $45.95
10 or more $41.36

The Pololu Simple Motor Controllers are versatile, general-purpose motor controllers for brushed, DC motors. A wide operating range of up to 5.5–40V and the ability to deliver up to several hundred Watts in a small form factor make these controllers suitable for many motor control applications. With a variety of supported interfaces—­USB for direct connection to a computer, TTL serial for use with embedded systems, RC hobby servo pulses for use as an RC-controlled electronic speed control (ESC), and analog voltages for use with a potentiometer or analog joystick—­and a wide array of configurable settings, these motor controllers make it easy to add basic control of brushed DC motors to a variety of projects. Although this motor controller has many more features than competing products, a free configuration utility (for Windows 8, 7, Vista, Windows XP, and Linux) simplifies initial setup of the device and allows for in-system testing and monitoring of the controller via USB.
Features
Simple bidirectional control of one DC brush motor.
5.5 V to 30 V (18v7, 18v15, and 18v25) or 40 V (24v12 and 24v23) operating supply range.
7 A to 25 A maximum continuous current output without a heat sink, depending on controller model
Four communication or control options:

USB interface for direct connection to a PC.
Logic-level (TTL) serial interface for direct connection to microcontrollers or other embedded controllers.
Hobby radio control (RC) pulse width interface for direct connection to an RC receiver or RC servo controller.
0–3.3 V analog voltage interface for direct connection to potentiometers and analog joysticks.

Simple configuration and calibration over USB with free configuration program (Windows 8, 7, Vista, Windows XP, and Linux compatible).
Documents:
Write a review
Your Name:
Your Review:
Note: HTML is not translated!
Rating:
Bad
Good
Enter the code in the box below: