2 x 20W Bluetooth 5.0 Multipoint Audio Amplifier Board - TSA1740
Brand:
Tinysine
Product Code:
G5C19FCDC4E271
Reward Points:
0
Availability:
Out Of Stock
Price: $34.95
5 or more $31.00
20 or more $28.00

TSA1740 is a 2x20W Bluetooth 5.0 audio amplifier board. It has a digital amplifier chip YDA174 on the board. It is a 20W×2ch high performance digital audio power amplifier IC with two DSPs. This board can be powered by any DC10V-18V power supply. It can be used to drive any 4Ω or 8Ω passive speakers. It's perfect for your Hi-Fi application. You may wish to pair with a mobile phone or a computer (etc). Power the amplifier board. Use your phone or PC (etc) to search for a new Bluetooth device. The module will appear as "TSA1740". You don't need a PIN, pair it and then you can play music.
The highlight point is you can connect multi TSA1740 to let them works together. It's a Bluetooth network. When you set the board to "party mode", users can stream audio to many amplifier boards at the same time wirelessly.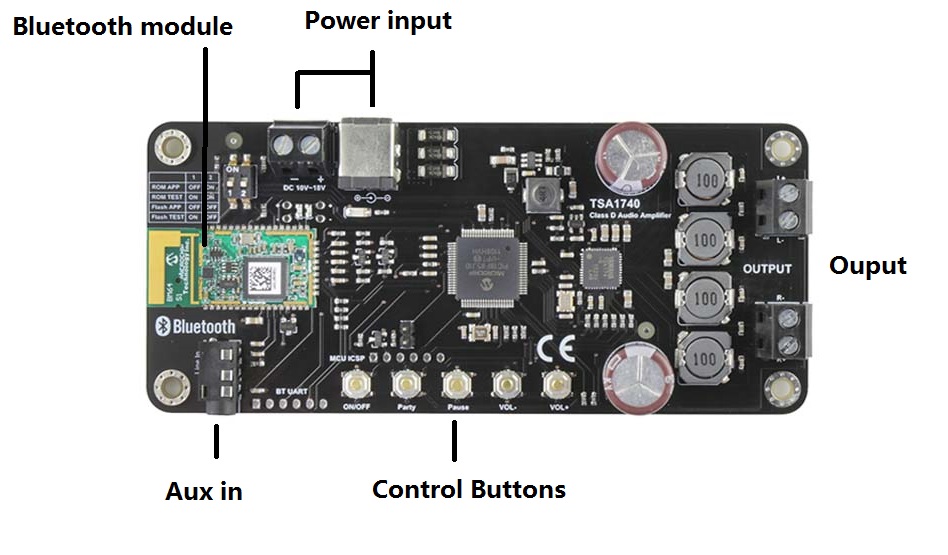 Note: There have soldering pads on the backside of the board for external buttons. You may need use a shielded cable to connect these buttons to prevent interference.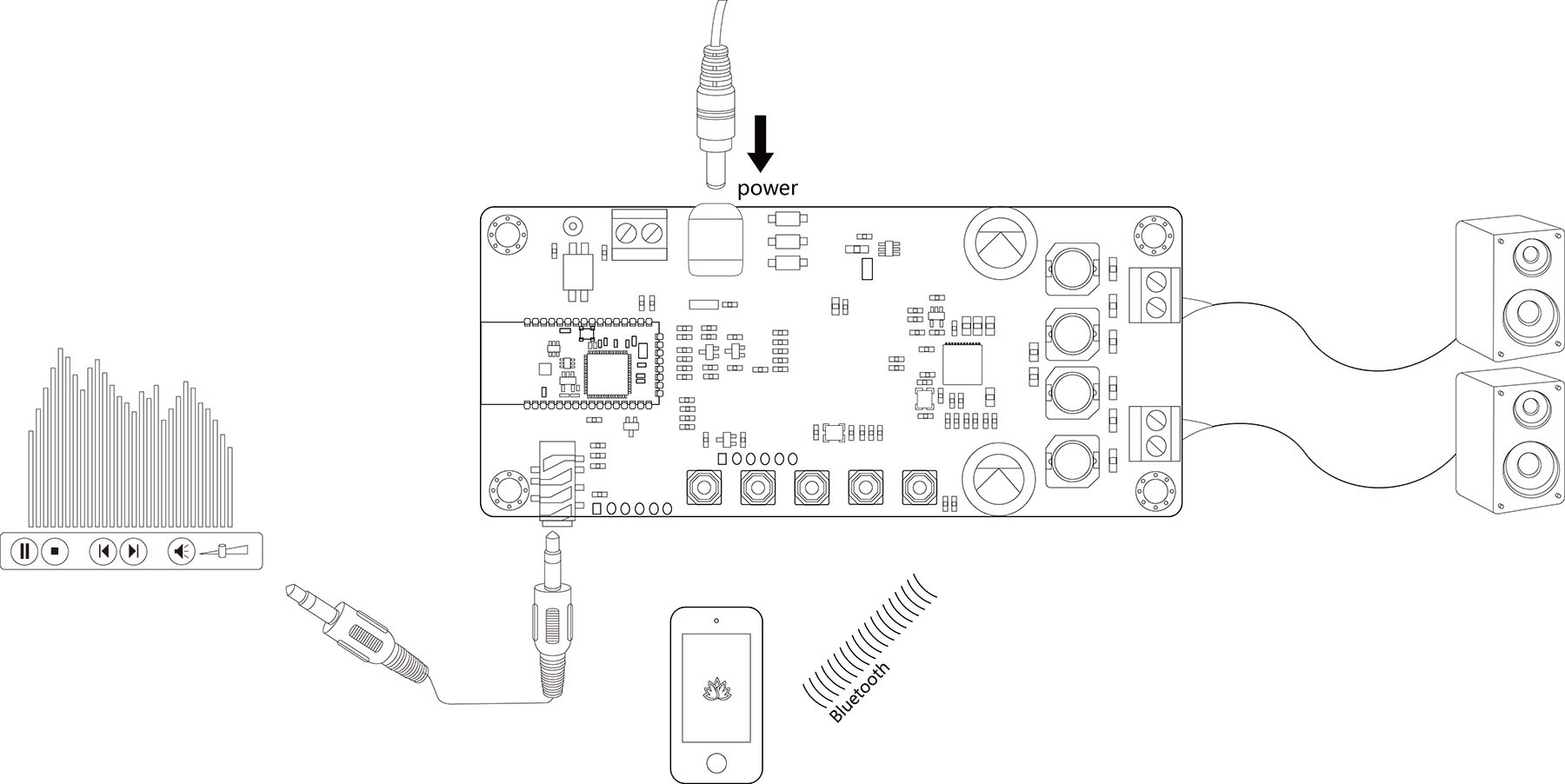 One TSA1740 works with a smartphone
How to use:
Power the amplifier board.
If your smartphone never paired with it before, You need the press the ON/OFF button first. Then use your smartphone search for a new Bluetooth device. The board will appear as "TSA1740".
Pair and connect it and then you can play music.
When you next time use it, You don't need press the ON/OFF button after power on.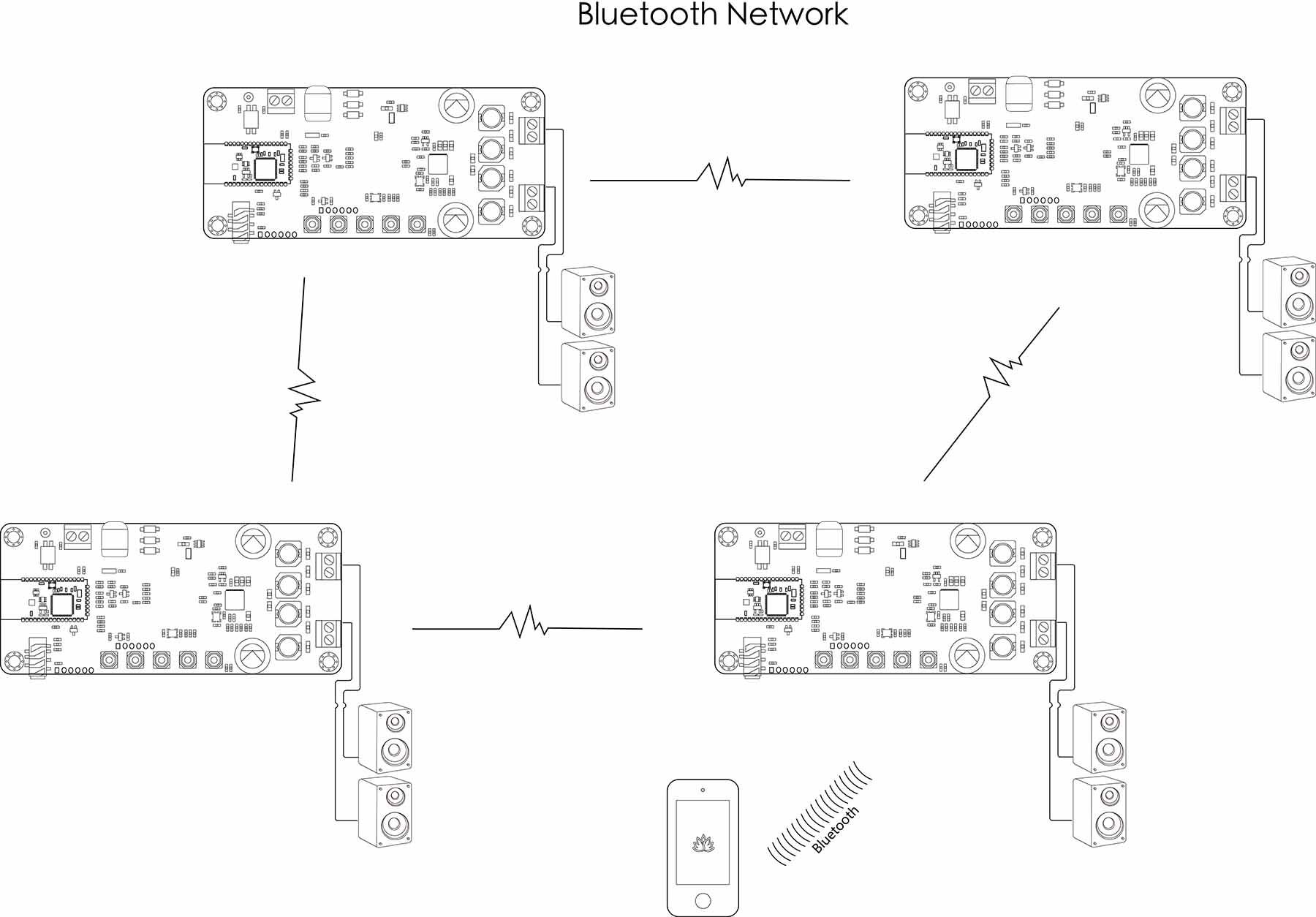 Multi TSA1740 in party mode work with a smartphone
How to into party mode:
Select one board as Master board. Let your smartphone paired and connected with it. You can play a music. You can hear the music from master amplifier speakers.
Power on the other slave boards
Long press the master board party button.
Long press the slave boards party button one by one to let them paired with master board. All speakers have music out.
Specification:
Specifications typical @ +25℃, Powered by 12V DC, unless otherwise noted. Specifications subject to change without notice.
Parameter

Condition

Min

Typ

Max

Supply Voltage (VDC)

-

10

-
18

Idle Power

SD Floating

-

1.3W

2.5W

Standby Power

SD Connected to GND

-

0.1W

0.3W

Maximum Current

40W @ 4Ohm

-

3.42A

-

Efficiency

PVDD=12V, RL=8Ω

-
86%
-

Minimum Load Impedance

3.2Ω

Distortion

RL=8Ω, PO=4.5W, 1 kHz

-
0.05%
-
Gain
25dB

Residual Noise

RL=8Ω, A-Weighted

-
50 μV
-

Input Impedance

-
-
22KΩ
-

Output Power

PVDD=14V, RL=4Ω, THD+N=10%

-
20W
-

PVDD=15V, RL =8Ω, THD+N=10%

-
15W
-

Bandwidth @ ±3dB

@4Ω

20Hz

-
20KHz

THD

@4Ω, 1W, 1KHz

-

0.0299%

-

@4Ω, 10W, 1KHz

-

0.073%

-
Features:
Dimensions: 5.6cm x 12.6cm x 2.8cm
Bluetooth 5.0
Supports A2DP 1.3, AVRCP 1.6, HFP 1.6, HSP1.2 and SPP 1.2
Aux in/LIne in auto detect
Working voltage: DC10V-18V
Pop noise reduction
Over/under voltage protection
Over current protection
Over temperature protection
Applications:
Personal computer
Background music system
Musical instrument amplifiers
Home DIY
Documents:
Write a review
Your Name:
Your Review:
Note: HTML is not translated!
Rating:
Bad
Good
Enter the code in the box below: