1 x 200W Bluetooth+DSP Mono Audio Amplifier Board - TSA7550B(Apt-X)
Brand:
Tinysine
Product Code:
G617BA4D4EEB3E
Reward Points:
0
Availability:
520
Price: $68.50
5 or more $64.60
20 or more $60.50

TSA7550B 200W Bluetooth+DSP mono amplifier board with an AudioB plus Bluetooth module that supports Apt-X. TSA7550B is a very flexible DSP/Amplifier combination board. It has perfect class-D architecture(Based on TDA7498E) and the mono channel has 200W power output. This board can be powered by any DC14V-39V power supply. It can be used to drive any 3Ω,4Ω or 8Ω passive speakers. TSA7550B has a smart cooling system, the fan not working in normal case to reduce the noise. Only start when the board overheat.
It's a one channel amplifier board. The only channel are 200W mono output(right and left channel audio mixed). You can pair it with a mobile phone or a computer (etc). Power the amplifier board. Use your phone or PC (etc) to search for a new Bluetooth device. The module will appear as "TSA7550B". You don't need a PIN, pair it and then you can play music.
The highlight point is ADAU1701 DSP chip on board. User can set audio tones/frequency of the output. The board has default DSP program loaded. User can set the amplifer to has full frequency or low pass output via switch port. TSA7550B are Apt-X and TWS supported. Therefore, Users can stream audio to 2 paired amplifier boards at the same time wirelessly.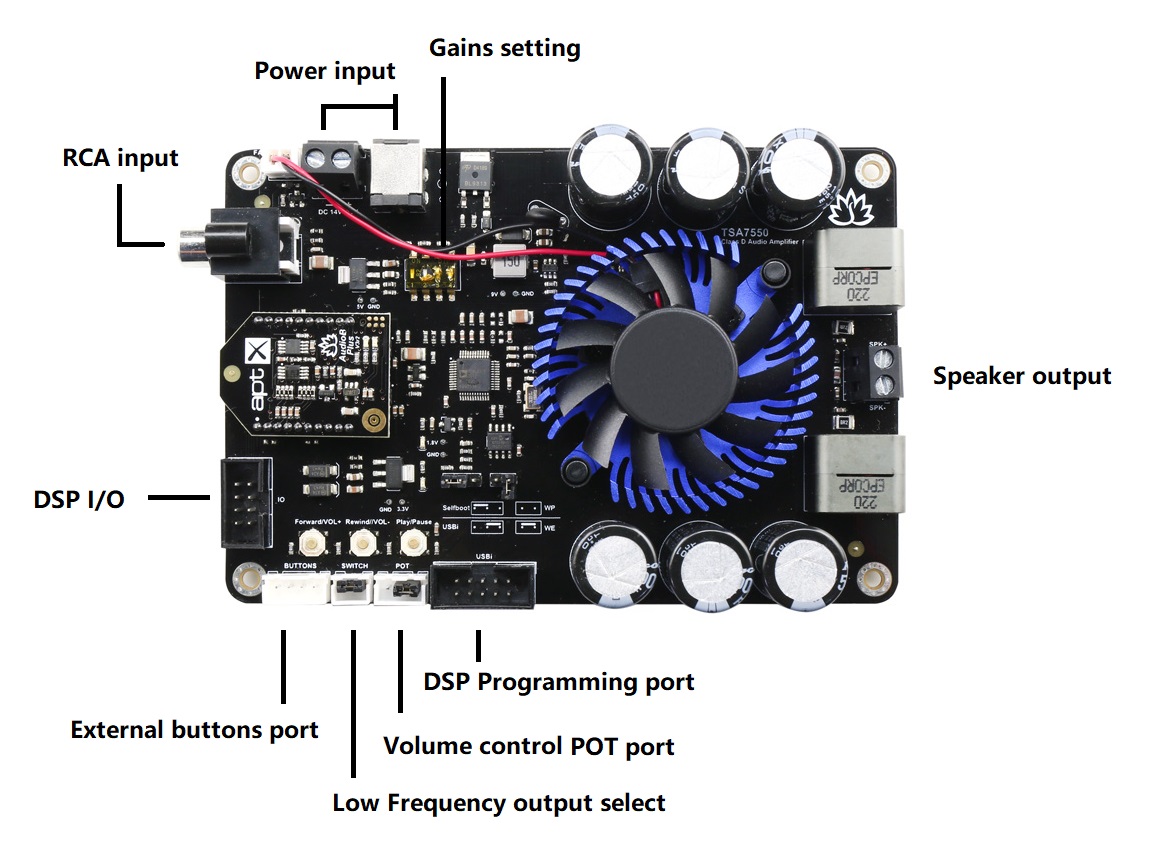 External Buttons port:
There have 3 buttons on the board which can control the audio volume and play/pause ect... You can connect external buttons easily by using this buttons control port.
Pins define:(Check the board backside silkscreen):
P/P: Play pause button
VOL+: volume increase and forward button
VOL-: volume decrease and rewind button
1.8V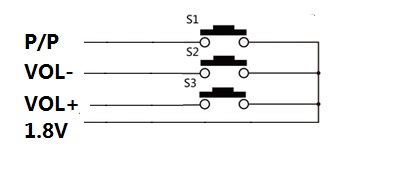 Switch port:
Open: Low frequency output
Close: Full frequency output
User can also define this port function by change the DSP program.
POT port:
User can connect an external 10K potentiometer to control the audio volume.
DSP programming port:
User can load a new DSP program by using the USBi JTAG Sigma DSP programmer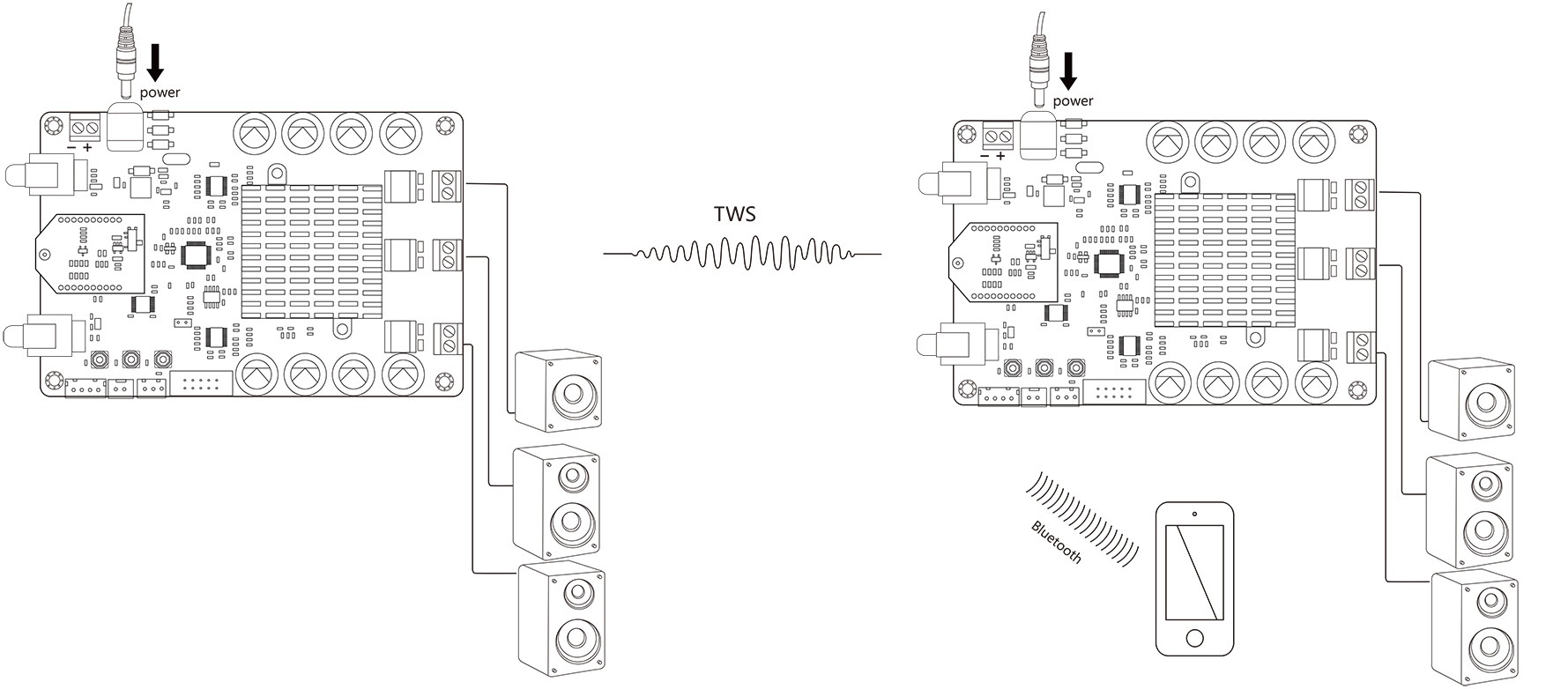 2 boards work in TWS mode. You can also build a wireless subwoofer system.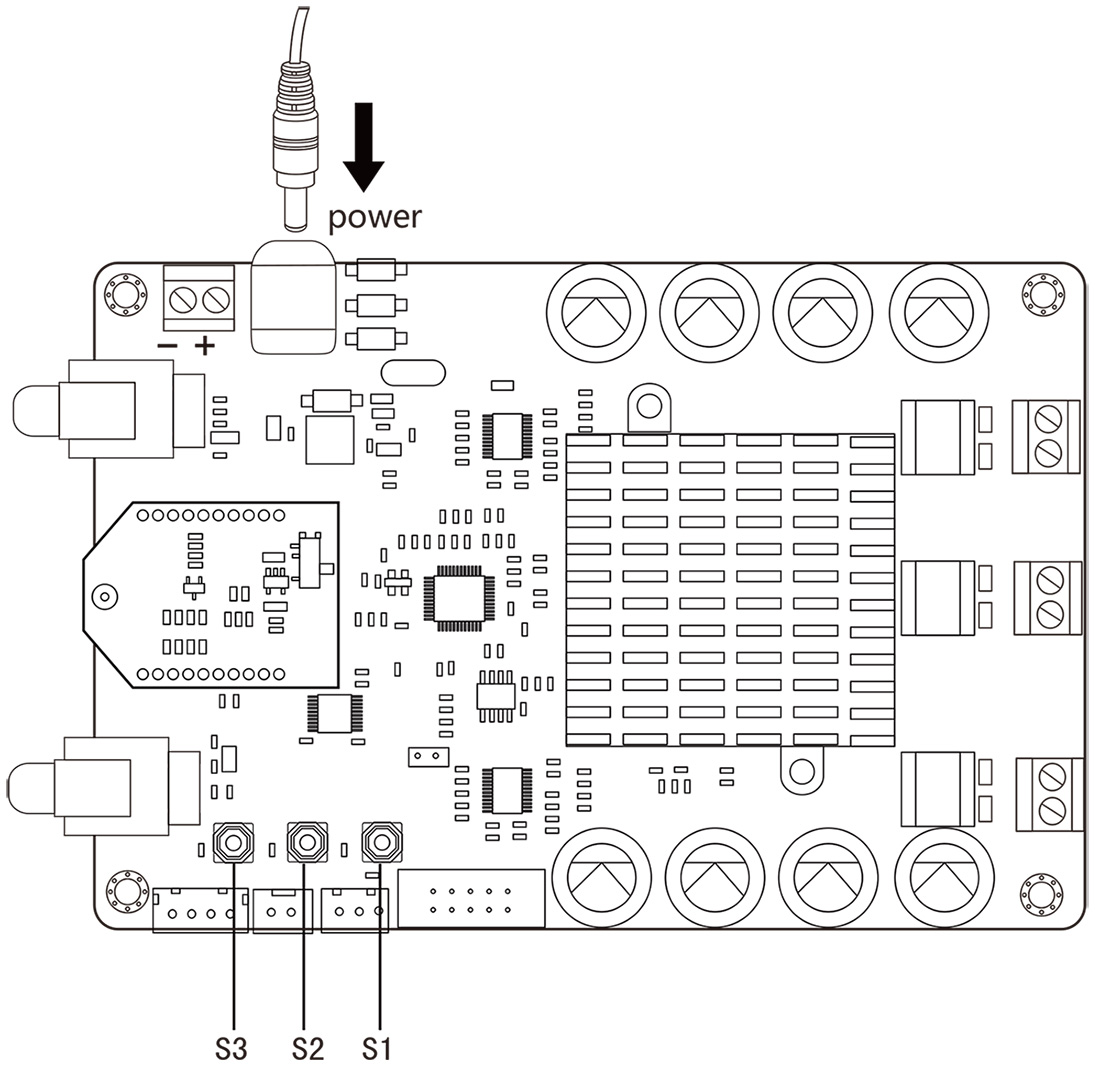 S1 - Long press 3s into pairing mode. Long press 6s clear the pairing info.
S1+S2 - Long press 1s into TWS slave mode.
S1+S3 - Long press 1s into TWS master mode.
S2+S3 - Long press 1s disconnect TWS connection.
Specification:
Specifications typical @ +25℃, Powered by 36V DC, unless otherwise noted. Specifications subject to change without notice.
Parameter
Condition
Min
Typ
Max

Supply Voltage (VDC)

-
14
36
39
Power output
Parallel BTL (mono) output
power, RL = 3 ohm,THD = 10%
220W
Parallel BTL (mono) output
power, RL = 3 ohm, THD = 1%
170W
THD
Po = 1 W
0.05%
Bandwidth @ ±3dB
@4Ω
20Hz
-
20KHz
Input Impedance
-
-
69KΩ
-
Undervoltage protection
threshold
8V

Minimum Load Impedance

3Ω

Gain
23.8dB
29.8dB/33.3dB
35.8dB
Efficiency
-
85%
-
Features:
Size: 14.3cm x 9.2cm x 2.8cm
aptX, aptX Low Latency, SBC and AAC
Bluetooth 5.0
Mono output
Working voltage: DC14V-39V
Smart cooling system
Over/under voltage protection
Over current protection
Over temperature protection
Applications:
Personal computer
Background music system
Musical instrument amplifiers
Home DIY
Car audio
Documents:
Write a review
Your Name:
Your Review:
Note: HTML is not translated!
Rating:
Bad
Good
Enter the code in the box below: