2 x 100W Bluetooth+DSP Audio Amplifier Board - TSA8802B(Apt-X)
Brand:
Tinysine
Product Code:
G650AA4AA6E010
Reward Points:
0
Availability:
500
Price: $59.95
5 or more $56.50
20 or more $53.20

TSA8802B 2x100W 2 channels Bluetooth+DSP amplifier board with an AudioB I2S Bluetooth module that supports Apt-X. TSA8802B is a very flexible DSP/DAC/Amplifier combination board. It has perfect class-D architecture(Based on TPA3221) and 2 channels have 100W power output. All the channels are capable of outputting nominal power simultaneously and continuously. This board can be powered by any DC12V-30V power supply. It can be used to drive any 4Ω or 8Ω passive speakers.
It's a 2 channels amplifier board. You can pair it with a mobile phone or a computer (etc). Power the amplifier board. Use your phone or PC (etc) to search for a new Bluetooth device. The module will appear as "TSA8802B". You don't need a PIN, pair it and then you can play music.
The highlight point is ADAU1701 DSP chip on board. It has a default DSP program loaded. Customers can adjust the gain, bass, midrange and treble in the DSP program. It also have a debug port for Sigima Studio, User can program this module with our USBi programmer to get more functions which includes equalization, crossover, bass enhancement, multiband dynamics processing, delay compensation, etc. TSA8802B has Apt-X and TWS supported. Therefore, Users can stream audio to 2 paired amplifier boards at the same time wirelessly.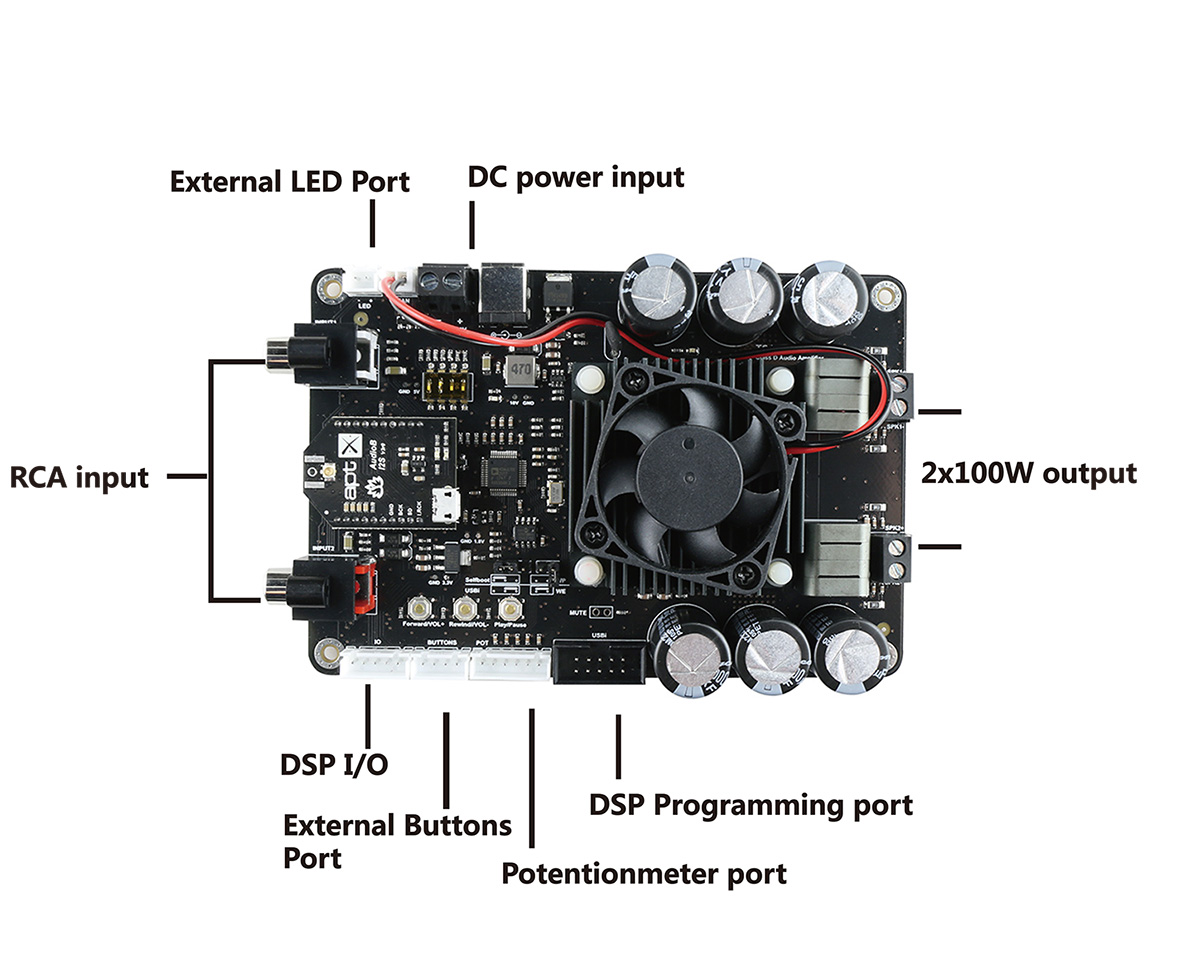 External Buttons port:
There have 3 buttons on the board which can control the audio volume and play/pause ect... You can connect external buttons easily by using this buttons control port.
Pins define:(Check the board backside silkscreen):
P/P: Play pause button
VOL+: volume increase and forward button
VOL-: volume decrease and rewind button
VDD_BT_IO: AudioB I2S 1.8V output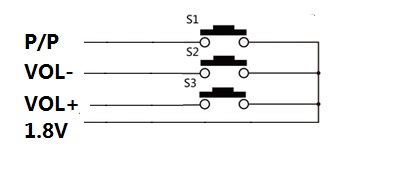 Volume control POT port:
There have an Ext POT port on the board. You can connect external POTs (5K~20K) to control the Main volume,treble,middle,Bass. You need update the DSP program first. DSP program (with external POTs). This is our POT kit
ADC0- Main volume.
ADC1- Bass volume.
ADC2- Middle volume.
ADC3- treble volume.
DSP programming port:
User can load a new DSP program by using the USBi JTAG Sigma DSP programmer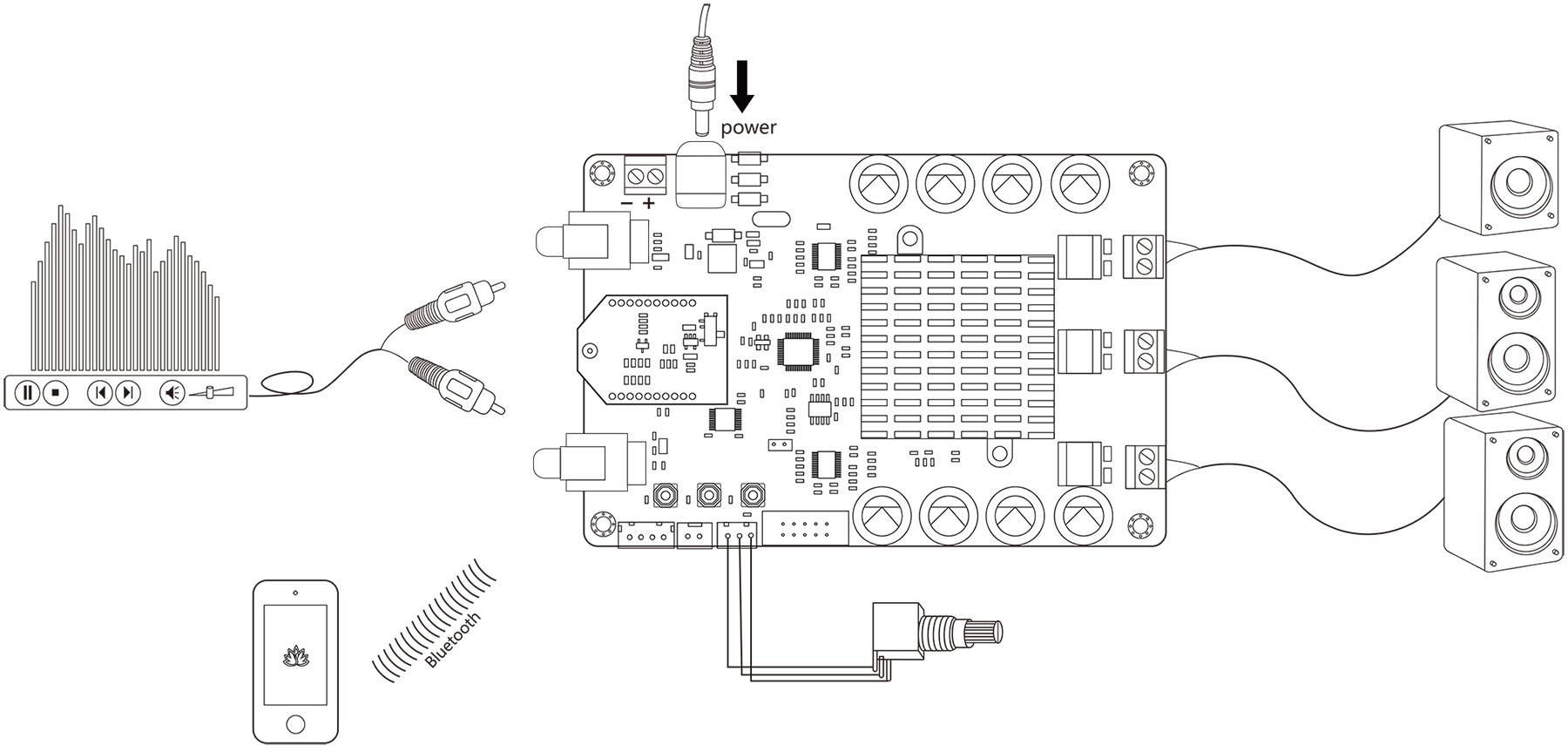 The default DSP program can auto select the Line in /Bluetooth audio and output to the amplifier chips. Bluetooth audio signal has higher priority.

2 boards work in TWS mode. You can also build a wireless subwoofer system.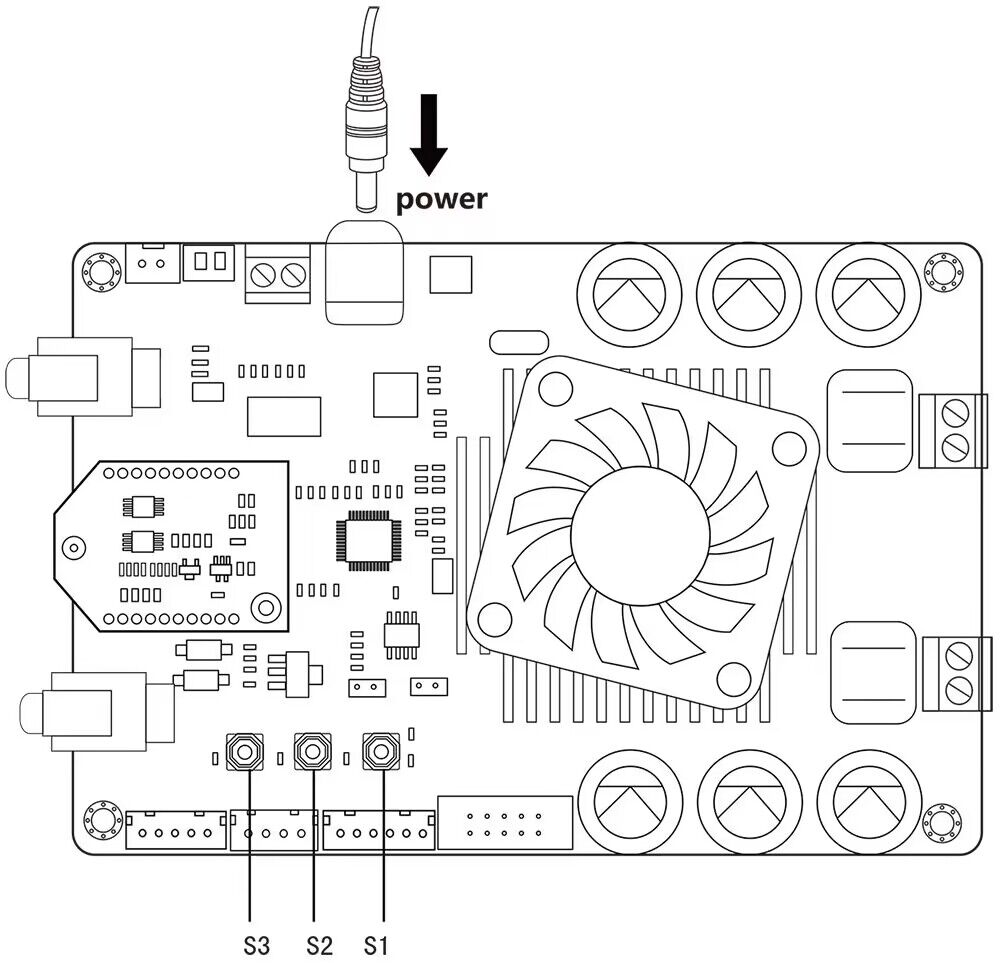 S1 - Long press 3s into pairing mode. Long press 6s clear the pairing info.
S1+S2 - Long press 1s into TWS slave mode.
S1+S3 - Long press 1s into TWS master mode.
S2+S3 - Long press 1s disconnect TWS connection.
Specification:
Specifications typical @ +25℃, Powered by 24V DC, unless otherwise noted. Specifications subject to change without notice.
Parameter
Condition
Min
Typ
Max

Supply Voltage (VDC)

-
10
24
30
Power output per channel
RL= 3Ω, 10% THD+N
112W
RL= 4Ω, 10% THD+N
105W
RL= 3Ω, 1% THD+N
100W
RL= 4Ω, 10% THD+N
88W
200W channel: RL= 2Ω, 1% THD+N
208W
THD+N
1W
0.02%
SNR
A-weighted,Gain= 18 dB
108dB
DNR
A-weighted,Gain= 18 dB
109dB

Minimum Load Impedance

3Ω

4Ω

Gain
18dB
24dB
34dB
Efficiency
100W @ 4Ohm
90%

Input Impedance

18dB
48KΩ
24dB
24KΩ
30dB
12KΩ
34dB
7.7KΩ
Features:
Size: 13.5cm x 9.2cm x 3.5cm
aptX, aptX Low Latency, SBC and AAC
ADAU DSP integrated
Bluetooth 5.1
I2S Sampling Rate: 48KHz
Working voltage: DC12V-30V
Smart cooling system
Over/under voltage protection
Over current protection
Over temperature protection
Applications:
Personal computer
Background music system
Musical instrument amplifiers
Home DIY
Car audio
Documents:
Write a review
Your Name:
Your Review:
Note: HTML is not translated!
Rating:
Bad
Good
Enter the code in the box below: