SmartPhone Controlled Switch - LazyBone V2 (WiFi)
Product Code:
G51486C3894C60
Reward Points:
0
Availability:
Out Of Stock
Price: $48.50
5 or more $44.50
20 or more $41.50

Do you want to control any electrical device on/off on your smart phone? If you also have this idea, ok, this 'Lazy Bone' is exactly what you need. 'Lazy Bone' is a new product of Tinysine Electronics, which has a good performance of stablity and it's very easy to use. It can control a lamp, router, fan and other electrical equipments on and off by the Android/IOS phone or PC. This WiFi Lazybone can also be set to the AP mode. So you can control it point to point even without a router.
Now we released LazyBone V2 support instantaneous function. You can set your Lazybone output a 100ms-20s pulse. It's can be used to control your garage-door or some other equipments.

Software Installation:
It has 2 basic version: Bluetooth and WIFI. And this is the WiFi LazyBone. If you want a Bluetooth LazyBone click here. We provide free Android&IOS APP for you to control it.

How to use the software:

1. Click the APP, if your phone WiFi is not open , it will indicate to open it.

2. Configure your Lazybone WiFi , Here is a Setting Guide.
3. Now can control the device on/off by press the on/off button displayed.
Instantaneous mode:
1. Click the Modes, You will entering mode setting page.

2. You can set the pulse time (100ms-20s). And turn on Instantaneous mode.

3. Back to main page, now you click the button it will have a pulse ouput. Turn on->keeping a while->release.
Wiring Diagram:

'LAZY BONE' has 2 kinds of working mode:

Self power mode: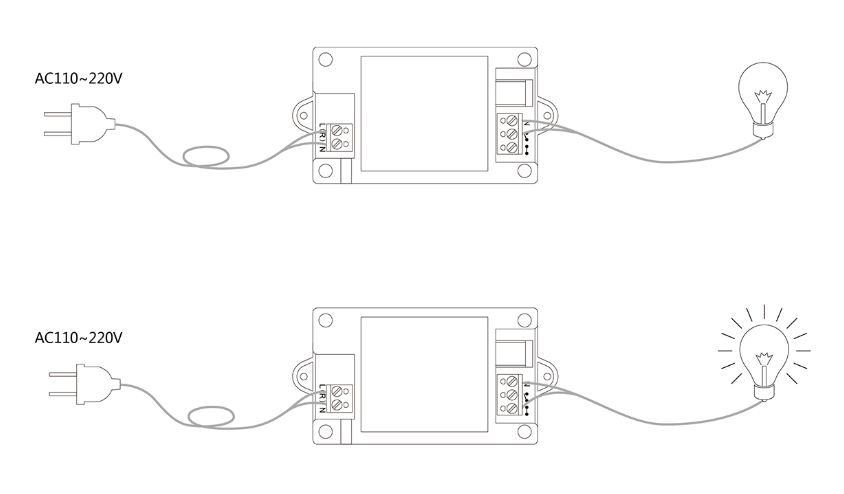 Wireless switch: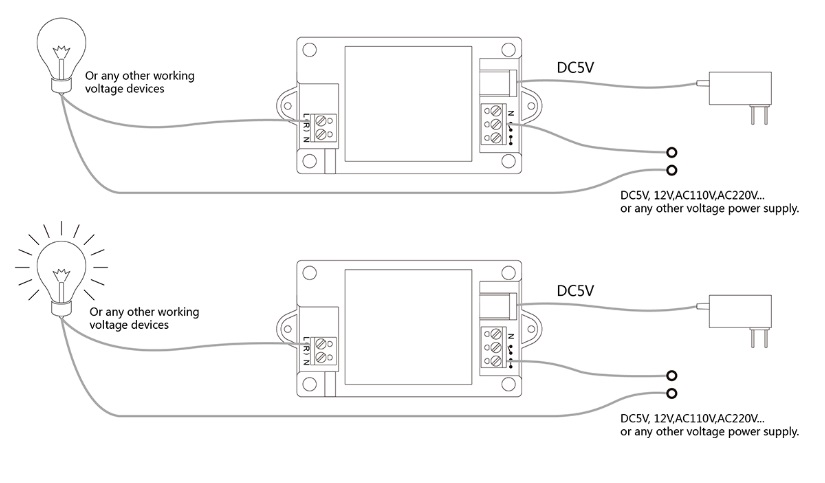 Commands
We also provided a very simple command set for developer developing their own APP. The Lazybone operates with an easy to use command set as described in the table below.

Features:
AC100-240 or DC5V working voltage.
Current rating of up to 10 Amp.
Dimension :80x49x31(mm)
WiFi network remote control
Support Android: Above V2.2
Download:
Write a review
Your Name:
Your Review:
Note: HTML is not translated!
Rating:
Bad
Good
Enter the code in the box below: