TSA1110 - Smartphone Bluetooth Remote Audio Volume Controller - (Andorid/iOS)
Brand:
Tinysine
Product Code:
G593F4B43632EC
Reward Points:
0
Availability:
920
Price: $24.95
5 or more $22.00
20 or more $20.00

If you want to remotely control your old CD audio system. This is good a choice! Just lie on the bed, open the smartphone APP. You will be able to control the audio volume. TSA1110 is a smartphone bluetooth audio volume controller. It's integrated a digital potentiometer and a powerful Bluetooth, and its control distance is up to 30m (outdoor). After connected it with your audio amplifier, You can use a Android or iPhone APP to control the audio volume on the smartphone.
It's easy to use. There are 3 ports for Audio in, Audio out and DC5V. Connect this TSA1110 with your smartphone via Bluetooth first, then rotate the virtual knob. The internal potentiometer value will change accordingly as you rotate the knob and the audio volume will change accordingly as well. A real volume knob is also designed for you to adjust the audio volume by simply rotating it.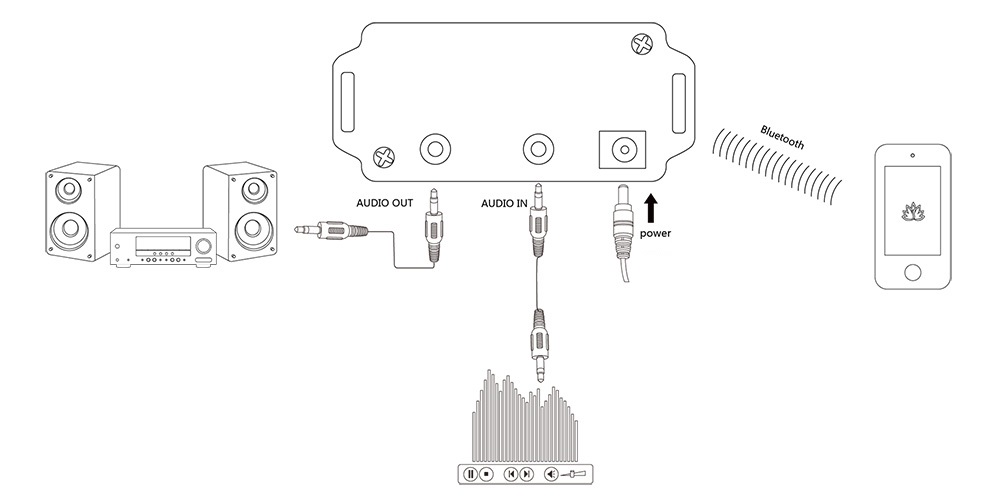 Smartphone APP:
1. Install the smartphone APP, Android users can download the Android APP apk file directly and install it on your phone. iPhone/iPad users can search "Lazybone dimmer BLE" on App store and install that APP.

2. Open the APP, if your phone bluetooth is off, it will indicate to turn it on.

3. Click the Menu and then 'Connect device' . Phone will search for the bluetooth devices, You will find a new bluetooth device whose name is "TSA1110". Connect it.

4. Now, You can adjust the audio volume by rotating the knob. click the button on the upper left corner to set it into mute state.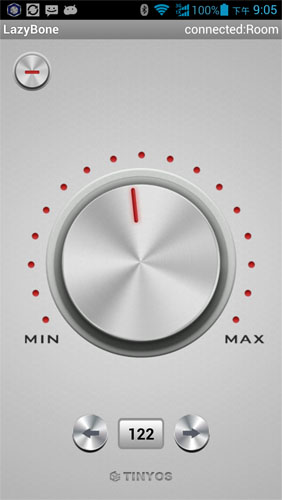 Features:
Dimension :96x41x20(mm)
Working voltage: DC5V(DV12V - We have changed to 12V in latest version to get better performance,Please check the voltage label on the board)
Control distance:30m (outdoor)
Bluetooth BLE 4.0
External audio volume knob
Support Android: Above V2.2/ iPhone 4s or later
Applications:
Personal computer
Background music system
Musical instrument amplifiers
Home DIY
Car audio
Download:
Write a review
Your Name:
Your Review:
Note: HTML is not translated!
Rating:
Bad
Good
Enter the code in the box below: