SmartPhone Controlled Switch - LazyBone V3 (Bluetooth)
Brand:
Tinysine
Product Code:
G53D70E1C7DE2A
Reward Points:
0
Availability:
1528
Price: $29.50
5 or more $25.00
20 or more $23.00

This is LazyBone V3 Bluetooth BLE/EDR dual mode version. It support both Android and iOS. So you can use your iphone or Android phone control this LazyBone Switch.
Do you want to control any electrical device on/off on your smart phone? If you also have this idea, ok, this 'Lazy Bone' is exactly what you need. 'Lazy Bone' is a new product of Tinysine Electronics, which has a good performance of stablity and it's very easy to use. It can control a lamp, router, fan and other electrical equipments on and off by the Android/IOS phone or PC. It also support momentary ouput(pulse time 100ms-20s) .
Note: The Bluetooth BLE password feature are not supported so far. So If you want use it control your garage-door. Please choose LazyBone V2.


Software Installation:

It has 2 basic version: Bluetooth and WIFI. And this is the Bluetooth LazyBone. If you want a WiFi LazyBone click here. We provide a free Android/IOS APP for you to control it.


How to use the software:
Normal mode:
Android APP:

1. Click the APP, if your phone bluetooth is not open , it will indicate to open it.

2. Click the Menu and then 'Connect device' . Phone will detacte the bluetooth device automaticly, and input the PIN number:'1234' (will auto connect next time).

3. Now can control the device on/off by press the on/off button displayed.
iPhone APP:

1. Open the APP

2. Click 'Connect device', it will auto detect the nearby BLE devices, Select and connect it.

3. Now can control the device on/off by press the on/off button displayed.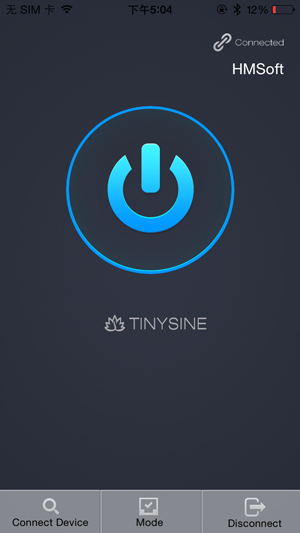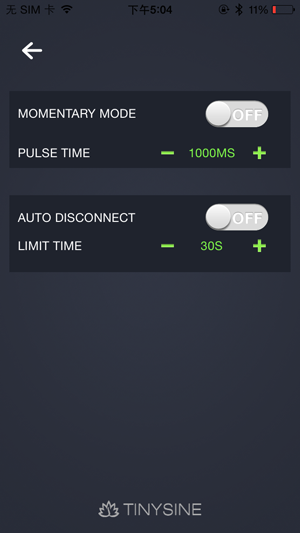 Momentary mode:
1. Click the Modes, You will entering mode setting page.

2. You can set the pulse time (100ms-20s). And turn on momentary mode.

3. Back to main page, now you click the button it will have a pulse ouput. Turn on->keeping a while->release.
Wiring Diagram:

'LAZY BONE' has 2 kinds of working mode:

Self power mode: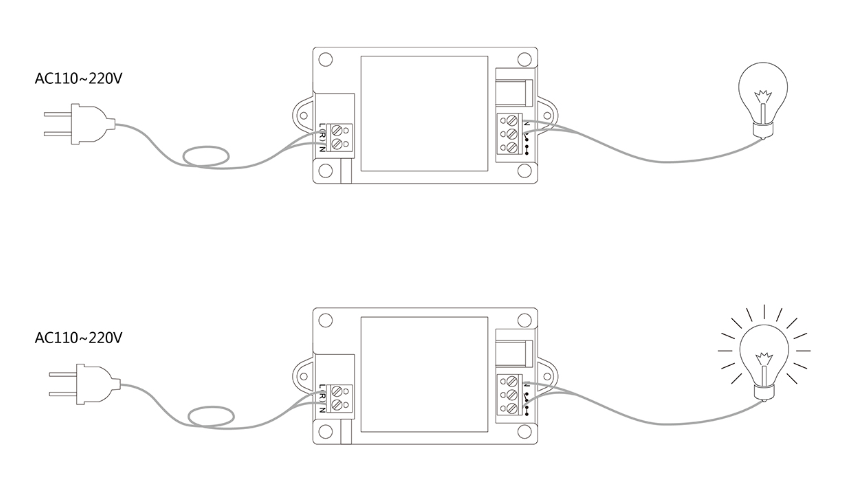 Wireless switch: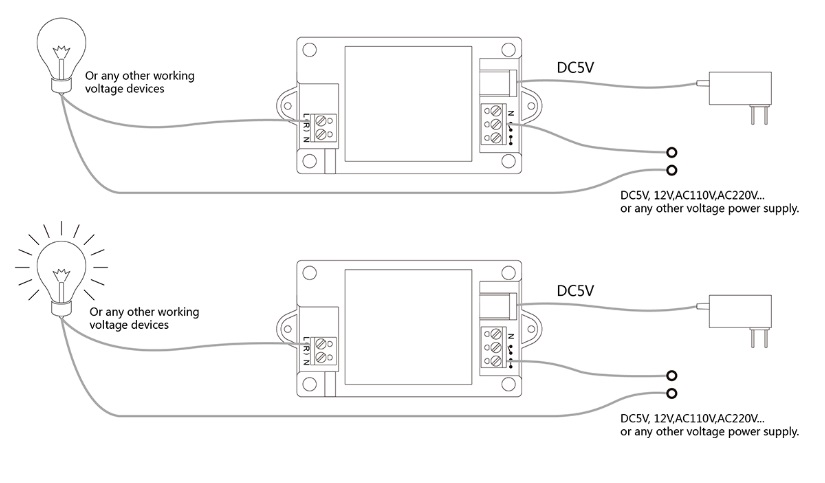 Commands
We also provided a very simple command set for developer developing their own APP. The Lazybone operates with an easy to use command set as described in the table below.

Features:
AC100-240 or DC5V working voltage.
Standby Current 30mA/5VDC
Current rating of up to 10 Amp.
Dimension :80x49x31(mm)
Control distance:25m (outdoor)
Support Android: Above V2.2
Support iPhone: Above iPhone4
Download:
Write a review
Your Name:
Your Review:
Note: HTML is not translated!
Rating:
Bad
Good
Enter the code in the box below: